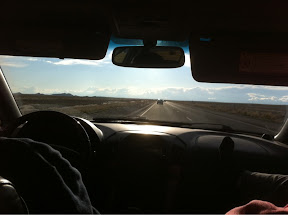 My view from the back seat. It was nice to nap lots. Jane and Denise did not sleep. They are rockstars. Jane wanted to drive straight through. It was a long drive but worth it.
These are the Salt Flats outside of Salt Lake. I have actually never been there.
Outside of Reno.
We got to the beach house in Aptos at about 5:30 sat. morning. This is the empty lot across from the beach house.
I love the ocean. I can hear the waves right now. It rocks.