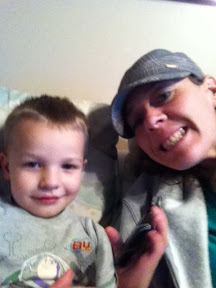 I didn't take nearly enough pictures of the weekend. I have no excuse. Just like I have no excuse for posting this at 11:30. I should be sleeping. I am getting too old to be awake this late when I need to be up for work.
We mainly just hung out in Manila today. Sarah fed us good food and we lounged. My kind of a day!
The drive home was good and then we had dinner with the other part of the clan in Sandy. I gained three pounds this weekend. It is now back to non crazy eating.
That eagle was along the road just outside of Manila.
Ezra is getting big. I sure do like him. We had fun talking today! Spencer and I had fun taking silly pictures.
I better sleep. It is always sad when weekends come to an end. Here is to one heck of a fantastic week for us all!!