Alice is Alive. She has just been busy. Yesterday, she worked and then went to Lehi to see her other dad have a starring role in Lehi High's play, Titanic. He missed the ship. We are thankful and he did a wonderful job!!!
Today, she had a root canal. It was nice. Okay, so it is a little painful but I did take half of the day off which allowed me to be able to wash my laundry and I even got the free drying deal because I was there before three. I never knew I would actually be excited about laundry!
Here are two pictures that made me very happy today. It is spring!(of course it is snowing now!)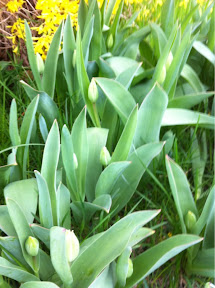 The buds on the tulips outside my house.
The bush in front of my house looks like it's on fire. These bright flowers eventually turn into leaves. I love when it is so bright.
I also love that tomorrow after school, spring break starts. A couple of my friends and I will start our road trip to California. I am so excited.
I got this picture from hope week in my email. I thought it was cool.
Well. I better finish packing and get to bed. I hope life is treating you well. Cheers!