Today flew. I like it. I was a busy bee today. Worked. Visited and was vomitted on by a friend's baby. Was fed a great meal by
Erin
. Then went and hung out with my church peeps at Family Home Evening. It was nice.
Did I mention I started a new grateful board yesterday? I did. It makes a difference in life!
Here are two awesome pictures of Levi loving him some lime Popsicles.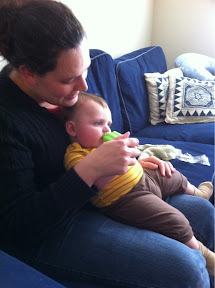 What kid likes lime? This kid!
He is just chillin'. That is how he rolls. I love how Erin is laughing. So cute!
I am up much too late yet again!
I saw a rainbow today. Isn't life grand?