The week seems to be going fast. I guess I am the right kind of busy. Sunday we celebrated Oliver's second birthday. Isn't he cute?
It is also Josh's birthday this month too so we let him party as well. He made this cool sculpture. What a talent, no?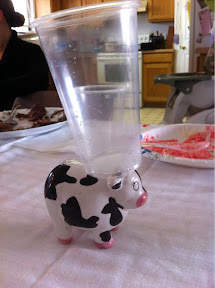 He also helped blow out the candles. What a good uncle.
I ran on Monday. That is the biggest event besides finding out I need a root canal. Here are a few pics from my run.
We had a surprise snow on Saturday. It didn't keep long, and I am glad for it!
Rocky Mountain Bluebird.
I also had a delicious sandwich at Jimmy John's followed by frozen yogurt with Erin and Levi.
I often tell Josh to make me a sandwich so this sign reminded me of him: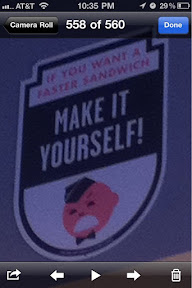 Good start to the week, minus the whole root canal news. Thank heavens it is able to be fixed before the big California trip on Friday!
Today was mediocre. I think both the students and the teachers are stir crazy. My second hour PE class drives me nuts and having a kid bleed all over the floor after being hit in the nose by a lacrosse ball didn't help!
I had no desire to exercise but made myself lift weights. I did weigh in today and had only gained two pounds(I had thought it would be four, so that was good right?)
The biggest accomplishment was that I got my taxes done. I am glad to have my friend, Jane, to help me because without her help I probably wouldn't have gotten a return. She helped me learn that all the money I spent on medical expenses were deductible. Wish I would have had her around last year!!!
Well, almost time for bed. Cheers!