I found this picture on my blog from march of 2008. I had looked back because one of the aides that works with me during one of my PE classes couldn't imagine me with a little more padding. So I pulled this up for her:
Sharri is with me in the picture. When I showed it to her she said: "Man, we were fat!"
I decided we should take a similar picture with what we look like today. Here it is: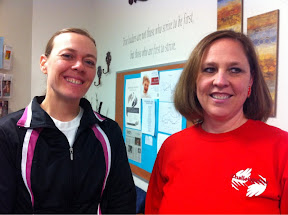 Just a bit of a difference, eh? I needed to see this today because I have been self loathing this week because I have been a few pounds heavier thanks to my partying on break. Luckily, I only have gained a pound since my last weigh in.
Here is my fortune today:
It made me laugh because dessert has gotten me in trouble lately. I did have some frozen yogurt with fruit in top of it. It was good and I felt good about not putting candy on it!
So 1/3 of the fortunes have come true so far!
Cheers!