We went into San Francisco today. I love this city. It's about an hour north of the beach house I am staying at in Aptos.
I could sit and watch the sea lions at Pier 39 for hours. That baby and its mama played hide and seek the whole time we we're watching. So cute!!!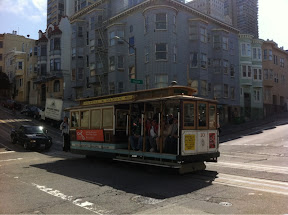 I could also ride the cable cars for hours. They are one of the highlights of SF for me!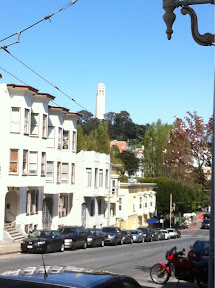 Coit Tower is the background.
The coolest little fortune cookie factory. I bought a whole bag and a bag of sesame seed cookies. Delicious. I am glad
MBC
and I found this place when we were in SF for my 30th birthday. Was that really four years ago, already?
I even paid a buck to take a picture in the factory. It is fascinating how they make fortune cookies. They start out as little disks and then the papers are put in before they are folded.
Ross Alley where the factory is located. Very cool little place!
I liked the cable car directions.
While we waited to board, I took this one.
We went to Ghirardelli Square and had an ice cream treat. I have been eating extravagantly.
Me at Golden Gate.
Beautiful sunset.
Jane and I at Golden Gate.
I also had a great set of ribs for dinner. It was my first time having ribs; delicious.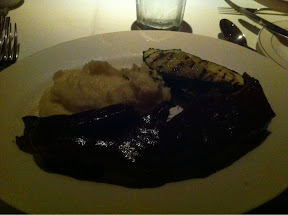 The restaurant was dimly lit for mood so the pic doesn't due the fabulous dinner justice!
Another great day!!!