Highlight of the day:
Me: "Alright, in about five minutes we will be playing jeopardy to review for our test so get your jeopardy brains ready!"
Student: (after raising his hand) "Can I go to my locker? I left my jeopardy brain there!"
Hilarious.
My fortune today was depressing. It said I would inherit some unexpected money in the next year. The only way you inherit money is if a family member dies. I don't like the idea of that! So I didn't even take a pic of it.
Here is a quote I did like today;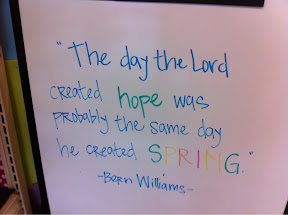 Bring on the spring.
Well off to sleep!