We headed to San Jose to see The Winchester House. It is a fascinating place that was built by a crazy lady, who thought she must confuse the spirits of those shot by Winchester rifles in order for them to not haunt her. The crazy lady was Sarah Winchester, the wife of the second heir to the Winchester gun fortune. Here are some pics of the house.
It is actually very pretty.
Door to nowhere.
Pretty gardens.
This place is huge!
Spider web windows.
You can read more about The Winchester Mansion
HERE
.
After the mansion we headed to San Francisco again so that Jane, Janette and Denise could go to Alcatraz. I have been twice in the past and even though I loved it, I thought I'd just stay behind and read and hang with the sea lions at Pier 39. I actually decided to explore the city and ride a cable car again. I was very glad I did. It was a blast.
Here are some pictures of my adventures:
I climbed this hill and many others.
Lombard Street
I want a red house.
Cable Car Museum.
Me "hanging out" and riding a cable car. Pure joy!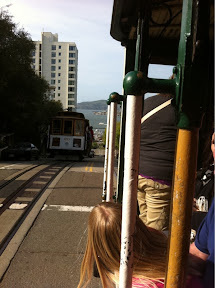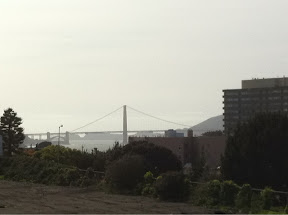 Golden Gate Bridge as seen from cable car.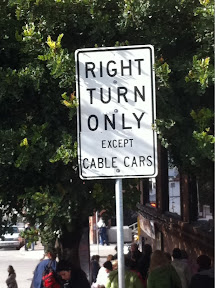 Silly sign.
My cable car.
It was free cone day at Ben and Jerry's. I may have had two!
Bay Bridge on way out of town.
It was a very fun day.