If the world ends today(which it will not!), then my last day was pretty much a good one to end on.
Work was work but something amazing happened in the middle of it. My wee little sophomores took a field trip to read to third graders at a local elementary school. They had written children's books in their English class and their teacher set up this amazing trip! Here are a few pics: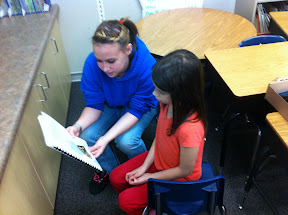 While witnessing this event I got misty eyed and was reminded that moments like these are why I teach. It was so touching! Loved it!!!
After work, I hosted a pizza, cookies and a movie party at my house for my neighbor kids. Gabby is six and her brother, Grant, is eight. We watched
Toy Story Three
and then played Band Hero. If you have not yet attempted to play Guitar hero or Rock Band with kids, you are missing out. It was a blast!
My friend, Moo, got into town last night and we watched
Bones
. The season finale was awesome!!! I love that Moo is low key and we can just be chill this weekend. Me and my body need some chill time.
Well, off to enjoy my Saturday. Sleeping in is definitely my favorite!!!!
Aren't my tulips pretty? I love spring!