Well, I made back to the homeland. I currently am lying on a comfortable bed in a hotel near the Milwaukee Airport listening to my niece slowly breathe and snore. My head hurts but my heart is full. I love being home and look forward to traveling to Green Bay today to see many of my relatives and my mom and dad(I guess they are relatives too!)
Friday, I went to a wedding for a friend from my church in Wausau. Holly and Jake are way cute and it was fun to reconnect with some of my former ward members.
Morgan and Ezra were cute too!!
Yesterday, before leaving on a jet plane, I met up with the other family for In N Out.(If you have never had a double double with well done fries, you haven't really experienced the greatness of In N Out.) We had a blast and it was hard to say goodbye as it often is! Here are some pictures of the event!
Oliver kept resting his tired head on my hand. It reminded me of the Vegas trip where he would not sleep unless I was practically choking him.
Kent was very good at entertaining Ezra(the burping in his ear is my favorite!)
Erin met up with us too, which I am very glad for because I didn't get to say goodbye on Friday at the wedding. She is moving this summer so I won't see her for a while, which may or may not have led to a tearful parting! I will miss you, Erin!(and Levi!)
Levi didn't want to look at me in this picture, but he had fun with Uncle Derek and kind of looked at the camera!
The boys were ever so sweet too! Spencer gave me lots of love and hugs and shared this awesome look at his cheeseburger!
Henry was determined to take a funny picture too. This is what we came up with: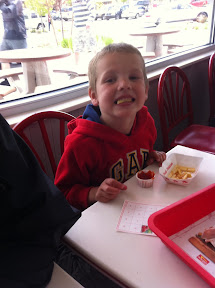 Anne, Josh and Morgan were there too but must have not done any cool posing like the rest of us!
It was good travels! Here is The Grand Canyon from the airplane: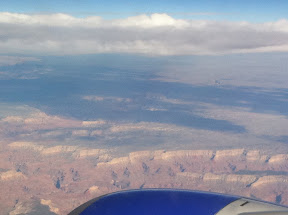 I am going to go back to sleep now that both my seester and niece are still sawing logs!!!
Cheers!