My whole family was in town for my parents 45th Wedding Anniversary. I am quite proud of their great accomplishment. We even had a dinner just like they had for their wedding: baked chicken, dressing, and potatoes and gravy. My sister also brought an amazing carrot cake. There was good food to eat all around. I like food. Here are some pictures from the festivities. One of my mom's friends took family pictures for us. I will post them some other time. I am too lazy to go get the cd and walk to the computer!
My brother, Erich, and I. I hadn't seen him in two years and was so glad to spend time with him and his wife, Carmen.
I did a 2.7 mile run in honor of my parents. Okay, it was because I knew there would be too much food! The doctor was right by the way. Two would have been better. 2.7 hurt.
One of many Rhinelander Hodags that were scattered downtown for a car show/art show. Read about the Hodag
HERE
Mom, Carmen, and cars.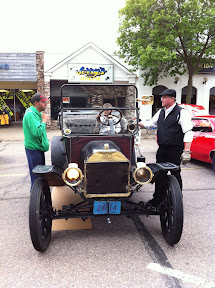 A nice oldie.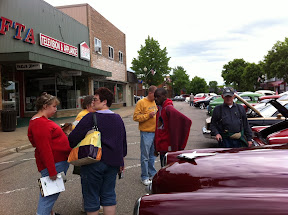 The family at the car show.
Carmen and I before family pics.
Mom and Dad on their special day!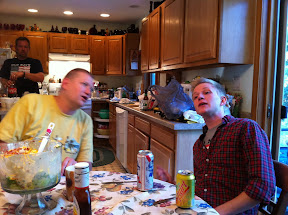 Jeff and Kris serenading us at dinner. Dad was not impressed.
Jeff, Mom and Erich at out fire pit.
Andi and Carmen
Dad and I at fire.
The dogs were worn out after all their playing. Buddy(White), and Divot.
Carmen and Buddy ready to head home on Sunday.
It was much too quiet after everybody had left. It was hard to say goodbye but it was so fun to see everybody.
Happy Anniversary Padres!