...it is a good thing I have so many hats. It has been so good to be at home the past few days. I have already spent time with family and have hung out with great friends. I am one lucky girl!
After spending Saturday night in Milwaukee with my seester and niece, we drove to Green Bay Sunday and were just in time for a family BBQ. My cousin's husband grilled for us. Wisconsin knows how to BBQ, right?
Paul is a grill master. Shannon said there was a "variety of meat product."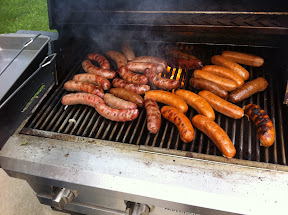 So good!!!
Monday two of my aunts, grandma, mom and I shopped 'til we dropped and then ate great burgers and fried cheese curds at Krolls across from Lambeau Field(aka Mecca for Packer fans).
The crew.
The curds(goodness they are good!)
Me with mecca! ;)
Me and my cute grandma. I loved her advice about 20 year old pool boys(I think I need a pool) and her solution for my aunt having too large of bills to pay for lunch: "Cindy, just take my twenty and give me your hundred and we can call it even." I sure do love her!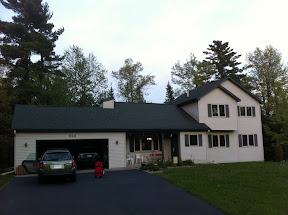 I love coming home to the Northwoods of Wisconsin. This house is one of my favorite places!!!
Last night, was the season opener for softball. I met my friends, Marla and Jeanette, for pizza at Sam's(Wisconsin is all about good food for me!). It was so nice to catch up with them. I stayed with Marla and kept her up much too late chatting, seeing she had to work at eight in the morning!
The game went well. It was close all game and went to extra innings. That was when we finally woke up and went on to win 9-4. Great time on a pretty night. I am in one of my heaven places!!! So good to be home.