Baseball history at its finest: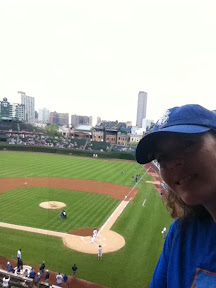 Coming here was like going to Lambeau the first time. For a sport nut like me, the history and atmosphere of old parks is touching. I did get misty eyed as I thought about all the greats who had played here, the historic ivy, and the thousands of fans who have watched the Cubs play here in the past hundred years! This field is amazing. If you are a baseball fan, you need to get here at least for one game in your live. Amazing.
This trip has been a dream come true. As my uncle Jim put it: "I finally made it to Wrigley!"
Now, off to the next stop on the Aliceapalooza Tour: Door County. But first a whole lot of driving today. Three hours to Appleton. Two to Wausau. And then two to Green Bay. I think I could do without this part of tour!