After a week of taking care of my sister's dog, Divot, it was time to take him back to Madison. He, unlike other dogs, who love to ride in the car and stick their heads out the window with tongues wiggling in the wind, hates the car. We drugged him with benedryl and hoped for the best.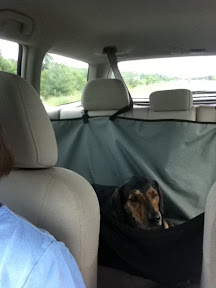 He was not happy about it and later puked all over. Best. Day. Ever!!!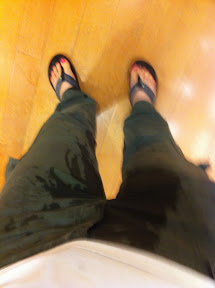 Having burgers at Red Robin with my mom and niece eased the horribleness until I spilled soap on myself at Bath and Body Works. I had a blast walking to the car through the mall looking like I wet myself. NOT!!! Best. Day. Ever.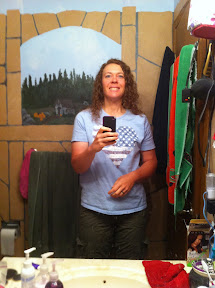 The next day could only go up and it did. Here I am in the Harry Potter bathroom in honor of the movie release. (notice Hagrid's house through the window!) I looked good and that merits a self portrait!
To keep my niece busy and out of trouble, my mom and I cooked up an adventure in Wisconsin Dells. Riding the Ducks was a favorite as a kid for me and I knew it wouldn't disappoint. These old World War II amphibious vehicles were always a favorite and riding on them through the woods and on the river and lake brought back so many great memories.
Mom, Rebecca and I.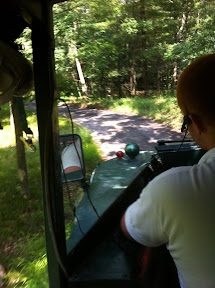 The view from my up front seat. So pretty!!
On The Wisconsin River. Isn't the sandstone pretty?
I love a good duck trail.
Another Duck on Lake Delton.
The ferns helped cool us off. Very good thing on a hot, muggy summer day!
A cool sunset on the drive home to Rhinelander on Sunday.
I mentioned to a friend that I wanted to eat at The Mine Company before the end of summer and she made it possible before my softball game last night. We won before the big storms came through after only 5 innings. Much better than the two ten-plus inning games of the past two weeks!!!
Elijah and Virgil in "the mine".
E has been my best fan this summer. He gets into the games and is proud of me. It is nice to have somebody to drive the hour to Wausau with and we always have good chats. I don't want to think of having to leave him in a few weeks. I am starting to dread the end of summer already!!! It is times like this where I wish I had a pause and rewind button for time!