I also love playing softball with this group of gals. We are so fun to be around and are dang good at playing softball.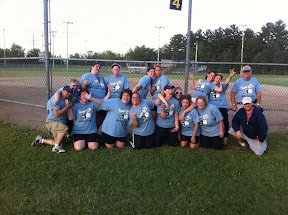 We are also very silly.
It was a family event this Tuesday. Elijah, mom and dad all made the trip with me to Wausau. It was another crazy extra inning game and we won it in the bottom of the 13th inning. We need to win in seven next week. It is too intense for me to play such long games.
Here's the lounging at its best. Divot, my sister's puppy is staying with is this week and may be a we'd bit spoiled.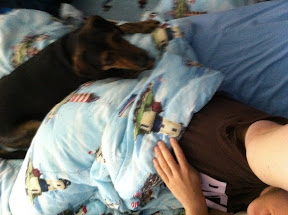 I yell at him all the time for sneaking into my bed, but let him crawl in when I was reading earlier this week!
Lounging is better with fudge. It this in my goodie bag from the race last Saturday!
Sometimes I don't lounge. This was taken mid-way through my run today. It was nice and cool and a great run. Isn't this flower bed cool. We are always trying to figure out what the scene is. Now, it is a star flying through the sky. Way cool.
Good week so far.