All good things come to an end, don't they? Yeah. I don't like that saying and I think the idea of an endless summer is a better idea. Oh well. Sometimes we make up sayings just to make us feel better. Like pain is just weakness leaving the body. Um yeah.
Jane has been in town the past week and we have done some fun things and most importantly, we have eaten tasty foods. Here are some pics that prove these points:
We went bike riding at my favorite trail. Jane is a beast. Not really. An we didn't see any beasts either. That is okay in my book.
We went geocaching. I think I am hooked and will need to buy a gps to start playing. Toys are important in life. This deer head has nothing to do with geocaching except that we saw it while geocaching.
Jane in the woods.
Found one.
Eating at Cross Country. I had the grilled salmon and a side of sweet potato fries. I like to sing this line sometimes: "sweet potato fries and I don't care!"
We brought my sister, mom and niece just for fun and because we are nice gals!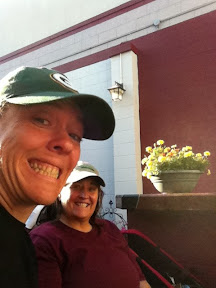 We also ate tacos at the patio at Pat's.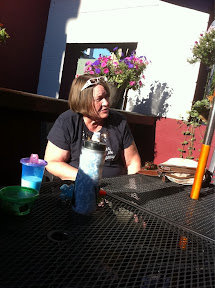 We brought Mom, Elijah and Dad because we are nice and for fun!
Divot, my sister's dog, has been with us this week too! He is a horrible dog and nobody likes him. We just lock him up in the back room an ignore him.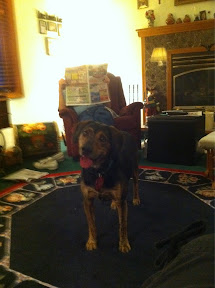 We went to Eagle River because the Vilas County Fair started there yesterday and where there is a fair there is cheesecurds.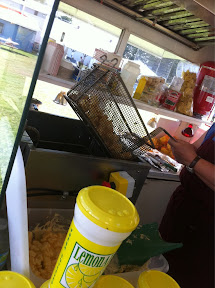 We also found a really cool 50s themed diner called Soda Pops.
It was amazingly delicious. I chose the Concord Grape Goose soda. It tasted a wee bit like heaven and grape soda.
Don't let this photo fool you. I really enjoyed this place. Even if I felt ill from over eating and vowed I'd never eat again. I had popcorn and cotton candy after playing the last softball game of the summer, so I am a liar! We lost the game, which is typical of my coed team, but I never felt like I lost this whole summer because I was playing a game I love and playing that game with amazing people!
The is only pic from Thursday night at the ballpark. Elijah is in there somewhere!
As summer closes, my heart is full of love for the land I was born and raised in, and where many of my best memories have been made. I do mourn leaving because that is only normal when you leave behind both an amazingly beautiful place and people who are amazing.
I am so grateful that I am blessed enough to fill my summers with memories of my favorite place on the planet. Wisconsin is always on my mind and in my heart. I miss this place already. Good thing there are never goodbyes only see ya laters!
See ya later Wisconsin. Jane and I will start our road trip to Utah today. The first stops are Bayfield, WI and Thunder Bay Canada! Hasta la Pasta Wisconsin.