*I posted another post below this one. Do not miss it. It is fantastic. I think posting twice in one day makes up for not posting in over a week, right?
The Clydesdales were in Rhinelander to deliver beer. I like the horses at least.
My cousin and her cute and funny kiddos came to visit!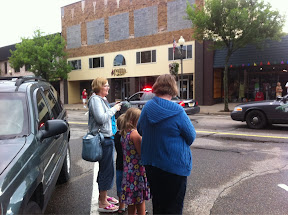 My Aunt Linda also came. My mom Sue even stuck around for the get together! :)
I love the dalmatian.
Thomas loves to read. I had to take this picture because he looked like an old man reading the daily paper in the right chair for it. (sorry dad!)
I make a mean pizza. Delish.
Sunset at Hodag Park.
There was a ski show that night. I like watching them jump!
I went disc golfing Monday at the new course in Rhinelander. It is fabulous!
Marla and I enjoyed Briq's after my game last night. I am so glad the will put half coconut and half sprinkles so I can get the best of both worlds.
I am making sure I cram as much fun as I can in the next 10 days. Time had gone fast. I will miss this place!